We'll be talking all about the practice of Grounding this month. You're in for a treat because the guidance I received about grounding is not only timely to 2016 end of year but it's such a twist, so different from what you would expect that it will leave you wondering what you thought you knew before. I'm not here to totally redefine everything you thought you knew about the basics. But I think these deeper dives into how the basics actually work are inspired by all the shifts and waves of awakenings that are happening.
It's not the practices are changing, but we are called to understand our very nature and intuitive instincts on a much more soul deep level. Soon enough I don't think it's going to be enough to get by on what we used to know, the world is changing so fast and so fundamentally with each awakening that we all need to anchor in these new energies as soon as we can. And that my brilliant bright lights, is the very nature of grounding.
Traditional view of grounding: An exercise, usually a form of meditation, that helps one move excess spiritual energy from the body to the Earth to promote a sense of calmness and serenity. Sometimes this is done through other activities like taking a walk, sex, or even eating. 
New Idea around Grounding

: Taking in Divine Energies and making them manifest here in the Earth plane. Grounding: Taking in Divine Energies and making them manifest here in the Earth plane. Click To Tweet

Before I sat down and began downloading the guidance around grounding for this month, I still wrestled with the idea of grounding being, essentially, plugging one's self into Earth and letting energy flow back up and out. Yes, on a very basic level that is what seemed to be happening. Yet my big question was what energy are we actually get rid of and why is there to begin with?

So I poked around in some groups online to see what the consensus was. It seemed like most people's idea of grounding revolved around ridding ones self of negativity and anxiety and also recharging the system.  

But isn't that basically cleansing? In most metaphysical books, grounding, centering, and cleansing three entirely separate practices?! Most times in books, authors tell you to ground after doing energy  work, ritual, and so forth because you might have taken in too much energy during your practice. There is this underlying belief here that "too much" energy can make us feel flighty, anxious, and restless. This says nothing about grounding be a cleansing practice. This line of thinking was getting me questions than answers. And what does "too much energy" actually mean?
Is grounding only about ridding ourselves of negativity, depression, anxiety, or excess energies?
I don't think so. 
What is this "too much energy" we all experience that we need these practices for? If we can experience this "too much energy" state after ritual, energy work, or even while we're in the creative flow, isn't what we're talking about Divine energy?
And Divine energy isn't just a force, like electricity. It's an intelligent, conscious wave. It's love and wisdom, and all good things rolled into one…and we can't have too much of that??? We can certainly have more than we are used to from the baseline of a given day. But can we really have too much Love?? For a person who comes from an energy medicine background, to me, this is like asking can a fish take in too much water! Turns out a fish can't drown in regular water. I can only drown in water that doesn't have enough oxygen in it, so when something is off about the H2O mix. Otherwise a fish is good to whatever is going on in the ocean around it, just as we normally do in the oceans of energy we live in.
There is also an underlying belief behind the idea of traditional grounding, which implies that spiritual people should not experience highs or lows. That highs and lows are s not natural in a sense and can even be harmful. This isn't truth though, this is perfectionism at work. It's ego thinking, not Divine wisdom. We can't consistently live from a high or low state, we end up burning out or bottoming out. But certainly our capacity to feel and hold high and low vibes state would ebb and flow, just like everything else in the Universe, right?
Are you saying I shouldn't try to get rid of negativity or feeling bad?
Yes and no. I'm of the the mind that all feelings are sacred messages. Even anxiety and depression. They are naturally occurring things that happen to being of light who have bodies on this plane. These experiences are part of collective, part of our Oneness. I don't think one should hold onto or give special significance to a random experience of depression or anxiety, sometimes it's a fleeting thing. It's when we have cyclical patterns of these feelings, that makes ego stand up and ask the big question "what's wrong with us?"
That's ego's job. It asks the questions that will keep us alive. But all it really is, is an alarm system alerting us there could be a potential threat…could be. We need that alarm system, even if it's a little overzealous at times. So why are we trying to give it away? Shouldn't be learning more how to turn the alarm system back to maintenance mode when we realize we aren't actually dying this very second? You don't chuck your smoke detector because it goes off after you've burned dinner. You simply silence the alarm for the time being. 
But we think all those feels MEAN something really important, and so we hold on them. We poke at them, analyze them to death. But we never seem to get around to simply turning the ringer off or adjusting the alarm sensitivity. I think we do what we do because we don't like how depression and anxiety feel, and that we're just trying to stabilize, so I'm certainly not picking on anyone. But what would happen if we learned more about how to work that alarm system?
So why was grounding so important and what is it exactly??
Most times when we are using a recorded meditation all these practices we're talking about are all combined into one easy to use tool, the recording itself.  We're flowing from one practice to the other without really thinking about it. Most modern meditations will use relaxation and opening to the light to center and clear. Centering and Cleansing are what really help us through negativity and anxiety. When we come to center, hear and feel soul and it's guidance, be in that love state, then fear-base thinking evaporates. And once we have clarity, from centering, about what feelings and energies are actually our own, we can effectively do our cord cuttings and white light love purges of things we might have picked up and held on to but weren't authentic to us.
Through centering and cleansing we get tapping into on the wisdom and love of Guidance, Soul, Guides, Higher self, Truth the Universe, Divinity…however you think of it.
And guidance can't live only within our brains and energy fields forever.
Guidance's ultimate destiny is to be shared. If we don't embrace it, it moves on to someone who is ready to act and move with it or we are stuck in a repeating pattern till we embrace it.
And in order to be shared, in needs to come through our system and enter the Earth plane…it needs to be grounded. WE don't need to be grounded Earth, we are of Earth, already within it's energies. The Divine Guidance needs to be rooted and anchored into this physical world. It needs to be made manifest, to be turned into something "real". This isn't always done through meditation, sometimes the only real way to ground that energy is to take inspired action.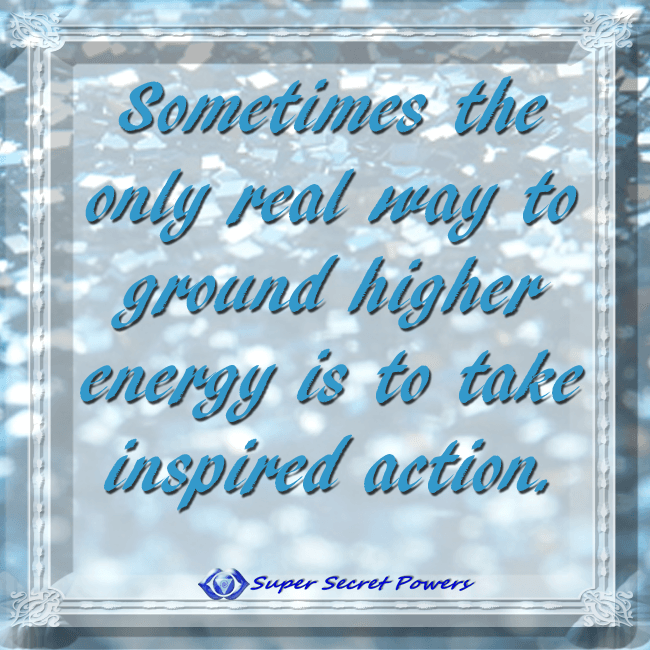 To bring this back down the practical, my loves…
What it it that is dying to come out of when we get into center?
What ideas and inspiration keep coming back to you when you center?
What will you ground into the Earth plane i order to make a little Heaven on Earth?
Declare it in the comments below and so it will be, dearest souls!!
Don't forget this article is just part of a series on Grounding! You can find the rest of the series, "How does grounding work?" here and "Do you need improve your grounding practice?", here.