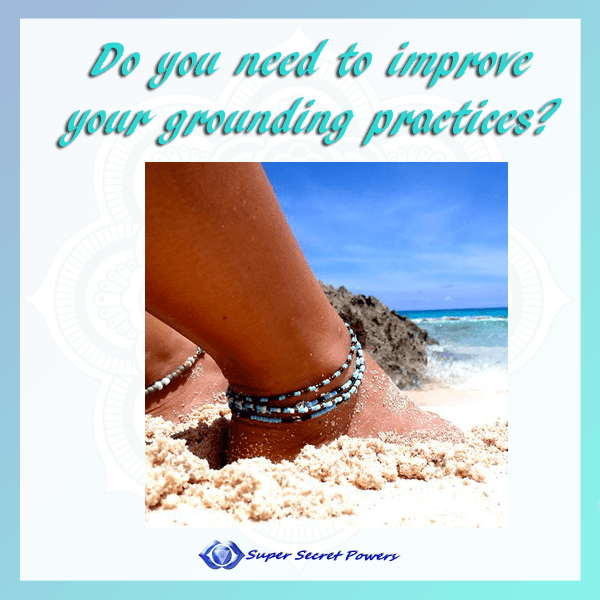 To be honest, when I start these article series, I don't usually know exactly where they will lead me. This installment in my series of grounding is really no different. And I think what happens in my creative process is that I am I actually following guidance and then learning how to ground and manifest that guidance.
As I lurk around the internet I hear a lot of talk about how to improve your intuitive or psychic skills, as if they were a tool one could sharpen or a physical exercise you could perfect. I have rarely found this to be the case in my own development. Sure there are things one can do to refine their intuitive process, like figuring out how best to record your hits when you're getting them and learning to be really really objective about exactly what you got (not just the story or interpretation of it). But the real mastery work comes in mastering the relationship between soul and vessel. And before the fear voice takes hold, I do want to say that this needs to be a holistic and balanced relationship. It's not about turning off your emotions to be enlightened or denying what you are feeling. Your feelings are every bit a piece of guidance as your intuitive hits are.
Feelings are earth plane intuitive hits rather than Divine Love hits.  They are essential to the grounding process.
Feelings are earth plane intuitive hits rather than Divine Love hits. They are essential to the grounding process. Click To Tweet
In the last post I mentioned a concept I got from Caroline Myss' "Anatomy of the Spirit", below you'll see my riff on this idea. When Guidance comes to us, it needs to travel through our body, both the physical and the energetic (it's all one system, right?) in order to manifest. As we ground guidance, each energy point in our body is a gateway through which we test the piece of guidance to see if it's even an option.
My take on the process of grounding guidance or Divine Love, is this:
From Crown to root chakra we go through the process of beginning to believe this potential is within us and that it is possible, even necessary.
When the personalized Divine Love is brought into Earth it takes on more concrete energy, and a special kind of energy that will help give it weight and resonance in the physical world.
We take this transformed energy back into us, we can begin to see and understand the greater ramifications of giving birth in the physical world to such an idea, vision, or mission.
As this seed of destiny passes through each chakra on the way back up to birthing into our world, we begin to embody the energies needed for this task more and more. Each gateway will bring different healings/integrations/attunements to our sense of wholeness with this new version of us.
We when guidance is finally birthed in this world we are in a state of grace with the Divine. Clear, calm, fulfilled, but also ready to take on more guidance…perhaps even a bigger vision (because we've cleaned and cleared our energies and raised our vibe through the process of birthing guidance).
But sometimes we get stuck or stall in this process. Looking at the infographic above and thinking of my own guidance that is waiting to see if it will be birthed, I can tell you what at test I am stuck. I need to do more work with my lower chakras, aligning my senses of safety, pleasure, and personal will with my big vision.
Not all guidance will be brought to this world in this way. There are times when guidance enters my system, not to be birthed in and of itself, but to help raise my vibe in a certain way to help the bigger guidance move through my system. It's like getting Divine course correction. Each attitude, mood, or feeling I am experiencing is then extremely important guidance. My feelings guide me to know what kind of work I should be doing with my energy and mindset in order to birth or manifest my vision or dream. In my example, I have to do a lot of work to release my fears and blocks about becoming overrun with stress and responsibility (becoming so uncentered I need to stop and rest) which are giving my lower chakra some trouble. But, of course, the Universe always has my back, and I can think of some present circumstances that are definitely going to help me work on some of those blocks!
Take a body test with me!
Take ten minutes or so and get into a quiet place. Let your mind and body relax and then evoke the energies of the last real big piece of guidance you got, but seem stuck with. Just sit quietly giving yourself love and observing what is going on your body when you think of this dream or vision you were given.
What place in your body are giving you feelings and sensations?
What energy centers seems to be growing or shrinking?
What fears or hurts come to mind? Where are those feelings located in your body?
What parts of your body are tense?
Have questions or need help with this level of work?
Fill out the form and let's chat!
[contact-form-7 404 "Not Found"]