Whether your a biz Goddess or a super mom,
being a lightworker isn't for the feint of heart!
Empaths, intutives, and creatives all experience the world through high-def filters.  Emotions are ampilified, intentions get amplified, drama gets amplified because of these filters. All that, on top of the daily stresses and frustrations! It's really no wonder you might be feeling:
Tired of fighting, defending, blocking and shielding against the negativity, the up and downs, the chaos an crazies in the world. 

That walking away, giving up, or hiding in your cabin on the beach is more and more tempting.

Your so busy battling with the daily negativity and problems that you never seems to be able to let your shine through or have the break through you need to uplevel . 
And just to be clear here, thriving isn't about:
Faking it till you make. That is just pretending.
Trying to eliminate all "negative" thoughts forever. That's impossible.
Shielding yourself from the world because you think it's too overwhelming.
Having to toughen up, get serious, or otherwise beat yourself into submitting to the way the "real" world works.
Constantly having to be the Spiritual Warrior of Light and Love, always having to defend yourself against vamps and narcissists.
And, it's not about chanting affirmations from your zen pillow all day long, week after week, trying to heal your 36 yr old inner child. Who has time for that??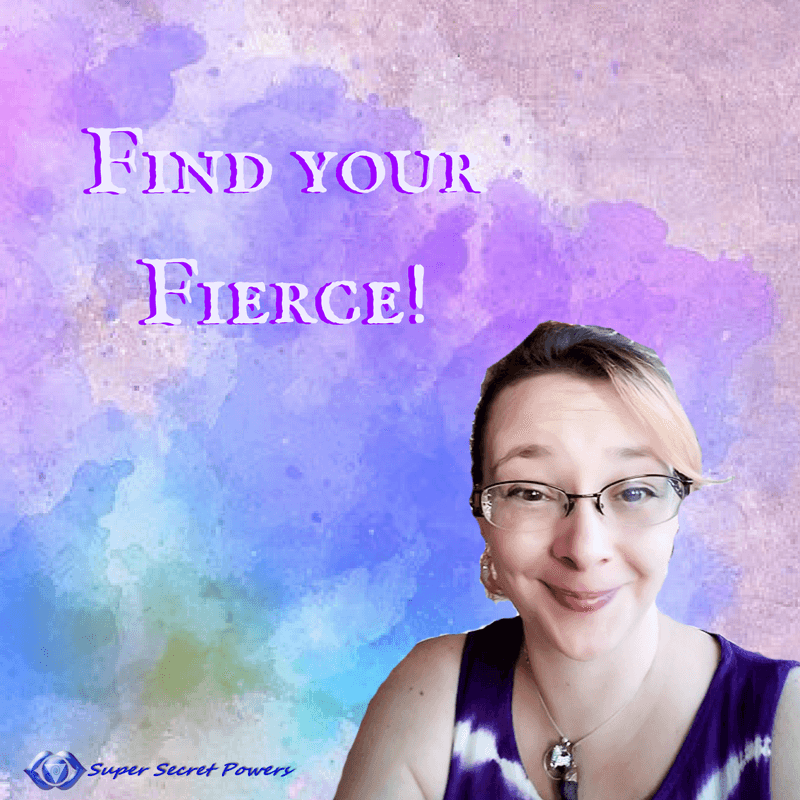 Up-leveling, conscious change, takes more than what you've been doing.
Not because what you're doing is wrong , broken, or bad, but because we have to action from a place of high-vibe choices in order manifest higher-vibe dreams.
If we're aren't in a place where we can make and keep making the high-vibe choice, we're only going to get more of the same low-vibe results.
When we're stuck in low-vibe, everything begins to spiral downward. We become more depleted, more discouraged, and more worn out as time goes on.
Learning to create conscious change within ourselves, to raise our vibe, takes learning to consciously:
Work your intuitive and creative processes, so you won't feel sunk by life's up and downs.

Manage and heal your energy states by transforming our emotions into powerful motivation, so you don't continually feel small and victimized by other's feelings or the world at large.

Master your sensitivity and empathy, so you aren't using them against yourself by feeding into patterns of anxiety, worry, and always giving yourself, your time, your heart and energy away for other's problems and drama.

Walk your path with radical self love, self acceptance, and open-heartedness, so you aren't trying to shielding yourself 24/7, which brings more joy, confidence and emotional freedom.
I struggled for years with empathy, without even realizing that was the source of my struggle. I had gotten to the point where I was fairly convinced it was all me, that there was something intrinsically wrong with me. Even though I had turned my life around from being in anxiety and having panic attacks.
In the midst of one of the biggest the storms in my life, I realized I had to  stop hiding, I had to stop fighting everything. Staying in that place kept me my fight or flight response, never healing, never rising. I couldn't throw my hands up in the air, sulk, or worry about if people liked me or not, I had to learn to be the captain of my own ship and to chart my course, no matter what storms came up!
I am here to help the next wave of whitelighters, lightworkers, healers, readers, spiritual women come into being, to be a beacon to those who feel the call and want to answer it in a larger, more activated way.
Not to mention…
10+ yrs as an Oracle: tarot and oracle card deck, and intuiton-based messenger
10 yrs Reiki master-teacher
10+ years Minister of Divinity
Author of Dreamcasting
Life long path of working with guides and guardians to create change and healing in my life and the lives of others.
I created the Fiercely Sensitive package because when we're stuck in patterns of low-vibe living we need to learn to find our fierce again. We need to start invoking higher-vibe daily living and dreams that will begin restoring and building our positive energy banks again. Because without that fuel, we're going to stay stuck. 
The Fiercely Sensitive programs is like a individual bootcamp for Unicorn Go-getters looking to:
Heal your energy leaks and start building your Positive energy bank back up, so you can raise your vibe!
Hold center and strengthen your spiritual core.
Detox your system of low-quality thought and thought-feeling patterns.
Naturally form stronger boundaries based in love and authenticity.
Be able to really, deeply, feel secure, confident, and SHINING!
Isn't time to…
Stop fearing your dragons of anxiety and fear and realize YOU ARE the dragon?
Recognize you are the creator of your life.
Know you are the source of power and light in your world.
Understand that you are both shadow and light and that is the source of your personal power.
It's time to begin the journey to become the fully whole and integrated being you are meant to be?
OVER $200 IN BONUSES
Get this popular course for free!

5 modules to get you understanding your gifts on a whole other level!

Meditation energy tool

Thriving as Sensitive ebook

Value $29.97

 

Free Soul Attunement session with me!

A 90 min healing and reading session to get your energy and your feeling back on course and start this program off on the right foot!

$99.97 value

 

Get lifetime member to over 10 hours of additional content about creating and keeping boundaries, tips and techniques for getting into center/vortex, the Emotional healing toolkit ($19.97 alone), and learning to release negative thought habits.

Value:$99
How we'll get you Fiercely Sensitive:
5 live 1-on-1 integrative healing sessions

: all tailor-fitted to your personal needs.  Sessions can draw from my tool kit of reiki, oracle and tarot, intuitive reading, block detoxing, and soul attunement to keep you learning about your gifts and living from your powerful center. These sessions will focus on high-level individual lessons on centering, grounding, boundary keeping, finding your intuitive process, learning to trust your intuition, and energy management to help you retrain your body and mind away from anxiety reactions, let soul lead more, and how to keep up the new vibe with ease and grace (Value $375). 

1 30 min Introduction session

: where we set some goals and intentions for our work together.

1 Soul Attunement Session

: 90 min healing and coaching session. (Value: $99.97)

3 mos of Email or private Facebook support

, so we can easily stay in contact and you can get your questions and answers, as well as motivation, inspiration, and resources, in a convenient way.

Lifetime access to the Fiercely Sensitive Library

, with over 10 hours of video content and meditations to help you get in center/vortex, stay in that high-vibe state longer, manage your energy and boundaries, release and detox emotional and thought patterns that are keeping you from shining bright ($50 value).

Practical homework

and integration practices to help you shift to center quickly and expand your light.

Thriving as an Empath and Intuitive Masterclass

($29.97 value)
What people are saying about Lindsay's Fiercely Sensitive teachings:
I don't know what I'd do with out Lindsay! I grew up with a family that didn't get me at all. Repressed and mocked me. I used my gift of empathy to belong to my own world, shielding myself from life. Protecting myself from those who didn't understand. When I started working with Lindsay, I started to truly break free of that and come into myself. It was a process of letting go of insecurities. Breaking down my protective walls. Becoming confident. Losing the anxiety and constant worrying so that I could be me and not care so much of what others thought. I took a very brave step and went part time at my day job to build a life/fitness coaching business.   –Andrea D.
I've throughout life heard this word repeatedly: boundaries. It's familiar yet not something I've ever been able to gauge whether or not I knew what mine were or how to implement them. It's a multilayered thing but working with Lindsay has allowed me to step into knowing myself on a deeper level enough to tap into what my soul inherently knows or needs – that's where the boundary is birthed from. Her ability to hold space and guide me into myself to unveil that inner knowing is incredibly powerful! In one conversation/session I was able to get to the heart of something that plagued me for months. She is a true gem.  -Caitlyn H.
I knew this all along but couldn't bring myself to feel into it, own it and admit it out loud. I was a great excuse maker! I've taken responsibility for that, and I'm so joyed to report this past weekend I actually had a paying customer for a reading! I get paralyzed with fear and overwhelm, when I don't grasp what I'm doing. You were sent to me, you have gone above the fear, I am behind you, learning. Not one person in my family ever really "made it" so to speak, I am the first to rise above the fear, I am the first to listen to the guidance and actually do something with it. I wouldn't be shining if it wasn't for all your loving, generous, patient help! You are an amazing woman!  -Kym B.
Isn't it time to stand your ground and summon the power you need in your life?
Time to anchor into Center and weave your magick?
Isn't time to rise?
Choose from two easy ways to pay!
FAQ
| | |
| --- | --- |
| How do I schedule my sessions? | Once payment is made I will get in touch with you to schedule the first appointment. All sessions will be over zoom, so you will be able to get on the call either through your computer or your phone. These sessions will be recorded so you can have them! |
| What if I need to reschedule? | While I am a fairly flexible person, reschedules should be requested 24 hours before the session is set to begin. So if you find your week more crunched than you thought, just shoot me a message! I would rather you show up to your session present, ready, and not stressed for time so we can connect deeply. |
| What if I don't like my sessions and want a refund? | If we cannot work together, I will certainly refund the money. But these can be deep sessions and might hit a nerve. If you aren't ready to tap into your inner truths, then this isn't the package for you. |
| How long are unused sessions good for? | Unused sessions are good for 3 months. I will send reminders if you have a session that you can still schedule, but the main session and the follow up really should be taken fairly close together in time for best results. |